Final Ducks jerseys and voting!
Sorry this took a little longer to post than I wanted it to, but it's my birthday weekend so I think I deserve a little slack.
Here are the remainder of the Ducks' jersey entries. We'll start with my entry
Anaheim Ducks concept
I simplified the stripes in the style of the current Canucks anniversary throwback. I also brought back the Duck mask logo as the main crest. There seems to be a liking for that logo. I always thought it was a little goofy.
The next entry comes from Stephan.
Anaheim Ducks concept
Stephan has changed everything up and gone with a very different striping pattern. He also uses the numbers on the waist and cuffs. His jersey is the only submission the feature a new logo!

Glen's entry:

Anaheim Ducks concept
Glen likes the "D" logo and the old eggplant and green colours. Interesting to see a white logo on a white jersey. The two colour outline makes it look good though.

Final entry comes from Bmac

Anaheim Ducks concept
He's kept the same striping, but has made the orange more prominent. He's also switched the "D" logo to primary status and brought back the old duck logo.

Don't forget about our previous entries from;
Brian & Jack

There are all of the Ducks entries. Voting will be on the side.

With the Ducks submission part over, we now move on to the team that finished 2nd in worst jersey voting, the Florida Panthers!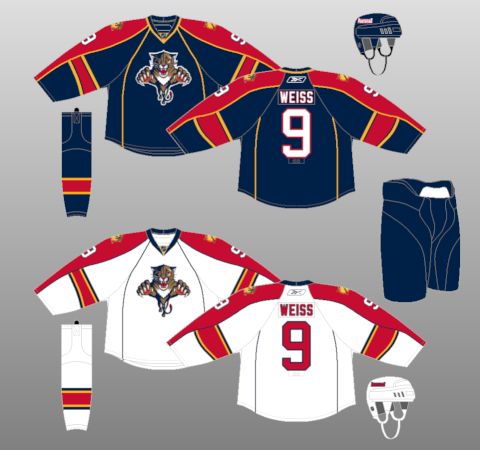 Same rules apply. You must follow all NHL rules regarding jerseys including names on backs and a coloured road and home white jerseys. Submissions will be accepted until Thursday, midnight (Eastern).


Final Ducks jerseys and voting!
Reviewed by
Ryan
on
November 01, 2010
Rating: